Hard Rock Hotel Penang


MASSAGE 'N' FEAST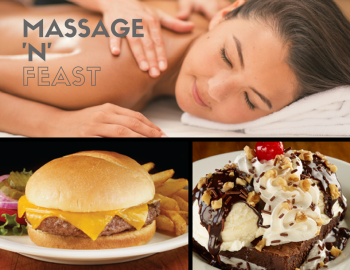 Now – 31 December 2017
Get a full body massage and a Hard Rock Cafe 3-Course set meal for only RM199nett per person (Worth RM272).
Choose your favourite full body massage from:
Hard Rock Massage (60 min)
Feel totally revved and ready to rock after our signature massage. A fusion of global massage styles including delicious ear reflexology, to get the blood pumping, purge impurities and deliver you with a renewed state of mind.
 Traditional Malaysian Massage (60 min)
Turn back the hands of time and experience the ancient healing techniques of Malaysia. It's survived this long so it must be good. Utilizing flowing strokes, palm and thumb pressure to lull you into a wonderful state of tranquility. Guaranteed to put the groove back in your step.
Starter – Soup of the day Hard Rock Cafe's 3-course set meal
Main – Choose from below:
Fish & Chips
Fillet of white snapper dipped in our special batter
and deep fried to golden brown. Served with french fries
and fresh coleslaw.

Hard Rock Cafe 6oz. Cheese Burger
A beef hamburger, lightly seasoned topped with two slices of Swiss, cheddar or Jack cheese and cooked to order.
Garnished with lettuce, tomato, red onion.
Served with seasoned fries.

Hickory-smoked Pulled Chicken
Tender smoked chicken, hand-pulled with hickory barbecue sauce on a toasted bun. Served with seasoned fries,
cowboy beans and citrus coleslaw.
Dessert – Hard Rock Cafe's Baker's Choice
(ask your server about today's special dessert offering, made from scratch from the kitchen)
Drinks – Coke, Sprite or Iced Lemon Tea
Terms & Conditions apply.
For enquiries and reservations, please contact Rock Spa at +604 8868 729 from 09.00am, daily.