Hard Rock Hotel Penang


World Burger Tour
May – June 2017
Location: Hard Rock Cafe Penang
Time: 11.30am – 10.30pm
Price: RM65 nett
If you're a burger lover, a carnival awaits you! Take your taste buds for a roller coaster ride with Hard Rock Cafe's World Burger Tour. The tour will bring a variety of burgers from across the globe on your plate. We are featuring 4 international burgers each month.
May 2017
El Toro Burger, Barcelona (Spain) 
Topped with red pepper Romesco sauce, aioli, roasted vegetables, goat cheese crumbles and arugula.
Tango Salsa Burger, Buenos Aires (Argentina)
Andouille sausage, salsa criolla, garlic aioli, Monterey jack cheese, fresh arugula and topped with a fried egg.
Riviera Burger, Nice (France)
Topped with savory olive tapenade and smoked peppers, marinated tomato, goat cheese, fresh greens and crisp potato rosti.
When In Rome Burger, Rome (Italy)
Topped with pancetta, garlic aioli, arugula and ricotta cheese with sun-dried tomato.
June 2017
English Breakfast Burger, London (England)
Topped with breakfast sausage, sliced ham, arugula, grilled portobello mushroom, fresh tomato and a fresh-cracked egg.
Bahn Mi Burger, Ho Chi Minh (Vietnam)
Coated in our tangy house-made Vietnamese glaze, topped with sliced cucumbers and pickled vegetables, accompanied by
cilantro and green onions.
Tennessee BBQ Burger – Memphis, TN (USA)
Our Certified Angus patty seasoned with a Memphis Dry Rub and topped with pickle slices, Memphis slaw, pulled lamb, tangy Barbeque sauce, crispy onions and cheddar.
Colombian Plantain Burger – Cartagena (Colombia)
Topped with caramelized onions, garlic aioli, bacon and Monterey Jack Cheese, spiked with molasses and topped with fried plantains.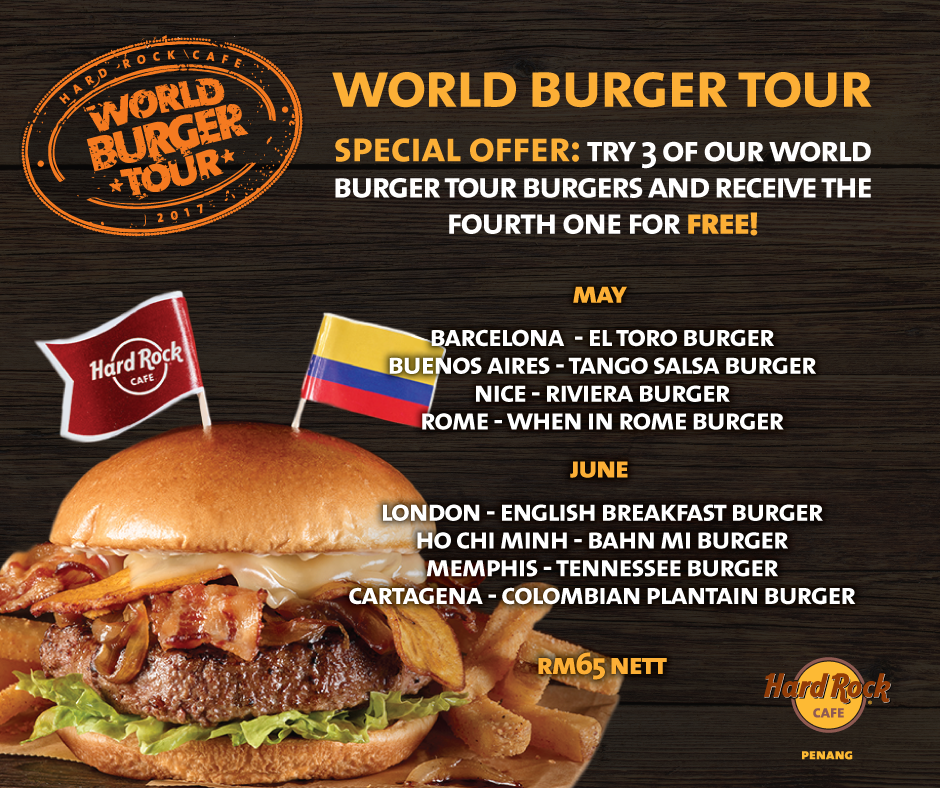 For more information and reservation, please contact:
Tel:+604 8868 054
Email: hrc.admin@hardrockhotels.net